The problem....
The closing of CIMLINC Inc. has left former CIMLINC customers with great concerns about maintaining their CIMLINC application software and data files. Are you a user of Linkage? Geometry Editor? CIMCAD or CIMCAM? Did you know that the node-locked license scheme used by CIMLINC applications means that when the UNIX workstation you depend on eventually dies, your software licenses die with it? In short, that system and application software is gone. Forever. Just keeping the old hardware running can be an expensive and aggravating proposition. Replacing your CIMLINC software means incurring lost productivity while you retrain. In fact, you may never become as productive as you were with your old CIMLINC software. And what about your data files? Your company's valuable intellectual property is held hostage in data files that you will not be able to retrieve when your software fails. Your company just can't afford to take the risk of running on unsupported software.
The way forward....
AMT Software used to be the Advanced Manufacturing Technology (AMT) division of CIMLINC. While CIMLINC pursued their Linkage document creation and management technology, AMT was chartered with enhancing and maintaining applications software products for the general CAD/CAM market (CIM CAD and CIM CAM) as well as the specialized needs of the mold and die market with the ToolDesigner and ToolMaker product line. Although CIMLINC closed, AMT Software continued on to further develop the CAD/CAM/Mold & Die product portfolio. If you are presently using Linkage, Geometry Editor, CIM CAD or CIM CAM from CIMLINC, you can easily migrate to these software solutions from AMT Software:
InfoManager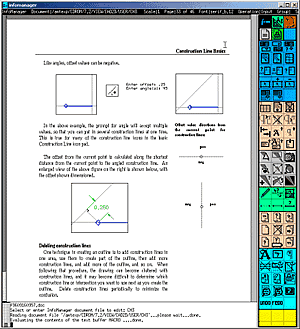 Derived from the same base code as Linkage, InfoManager assembles forms from embedded intelligent formulas and macros to extract and format external text and graphic data files. The same powerful ScriptLINK programming language is at the heart of InfoManager and ExpertCAD. This means that the applications you have that were built with Linkage may run with minimal or no changes whatsoever. Document data files generated by Linkage are 100% compatible with InfoManager. Design and manufacturing cannot function without correct documentation. That's why InfoManager has long been a part of our AMT suite of products. Simple to use yet powerful, InfoManager removes the drudgery of mundane everyday tasks such as creating setup sheets, building parts list or completing ECNs. InfoManager is available on popular UNIX platforms. If you are currently using Linkage Developer Edition, Integrator Edition or User Edition then InfoManager may very well be the perfect replacement.
If you need to preserve your legacy Linkage documents, we offer as translation service that will convert your Linkage documents to Adobe PDF format.
ExpertCAD
The CIMLINC Geometry Editor (LK4000) as well as CIM CAD are direct descendants of ExpertCAD. Because these former CIMLINC applications were derived from the same source tree, data files are 100% compatible with ExpertCAD. No translator necessary! You custom macros and scripts that make you so productive are also 100% compatible. Since parting ways with CIMLINC, our focus on CAD/CAM naturally led to the many enhancements to ExpertCAD. In short, this ExpertCAD may be the perfect upgrade to your CIMLINC software. ExpertCAD is available on popular UNIX platforms as well as Windows.
ExpertCAM
ExpertCAM is production oriented 2D NC programming system that traces its heritage back to CIMLINC's CIM CAM. Just like ExpertCAD and InfoManager, all your data files, macros and customization as well as post processors are 100% compatible with ExpertCAM. The investment you've made over the years to automate and refine your N C programming doesn't need not go down the drain. Migrating to ExpertCAM means you can continue to crank out NC programs to keep your machine tools humming. Just like ExpertCAD, you choose your hardware platform from UNIX systems from Sun and HP to Windows-based PCs. More choice, more power and the security of knowing your software is supported.