ExpertCAD Overview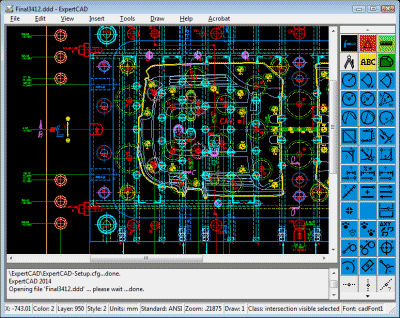 ExpertCAD gives designers enough flexibility, choice, and control to meet manufacturing needs, this means higher quality drawing output and all the features and capabilities you need to increase 2D design and drafting by a rate of 4-to-1, 5-to-1, or even 10-to-1!
ExpertCAD simplifies even the most difficult aspects of 2D design and drafting in discrete parts manufacturing. It provides all the practical tools you need to design parts for improved manufacturability and to build the most efficient, accurate parts, tools, or fixtures, supporting all your design and drafting requirements from concept to the factory floor.
ExpertCAD is powerful and easy-to-use to help you keep your competitive advantage through:
Reduced production costs

Faster drawing turnaround

Increased productivity

Improved overall product quality

Faster time-to-market
With ExpertCAD, you can import CAD data; create, modify, or edit designs for manufacturability; generate your own drawings; distribute either hard copy or electronic data to other systems; and interface directly to the CAM system of your choice. ExpertCAD works the way you work and gets the job done right.
Why 2D?
If your goal is to design entirely in 3D, then move along; we can't help you. If your goal is to use the right tool for the design task at hand to improve productivity, then your thinking through this 2D/3D debate correctly.
3D modeling vs. 2D design isn't an either/or proposition. Some would have you believe it is. That's a false choice.
Every designer knows that there are circumstances where 2D methods outshine 3D modeling from a productivity standpoint. Why take an hour to model in 3D when in 10 minutes you can layout the design in 2D. It just doesn't make sense. Why wrestle with the deficient drafting tools in a 3D system to produce the detailed drawing of your design (in addition to the time you spent doing 3D modeling) when a purpose-build 2D application is much more suited to the job? The answer is simple: choose the right tool for the design task at hand that maximizes productivity.
Powerful 2D Design and Drafting Features
ExpertCAD gives you all the power you need in a single software package. Most tasks, even 3D views, can be completed in a fraction of the time of other popular CAD systems.
Powerful construction layout capabilities mimic traditional on-the-board drafting techniques and allow even first-time users to be productive.

Cut, Copy and Paste between sessions or paste information to Microsoft Word to update and document designs.

Global editing features improves efficiency by allowing you to make changes all at the same time rather than file by file or layer by layer.

Powerful editing features that includes dynamically moving, copying, mirror imaging, rotating, translating, and more.

Multiple text fonts (native CAD fonts and TrueType fonts), colors, views, and up to 64 line styles help simplify the drafting process and allow you to conform to existing drafting specifications or company standards.

1024 named layers help organize and manage even the largest designs.

Design attributes such as name, count, and value are user-definable and fully associative, allowing you to mark components for later use in parts lists or bill of materials.

Associative dimensioning can be changed automatically from inch to metric

Automatic geometry revision eliminates recalculating dimensions or re-entering crosshatching; when changes are made to the geometry, the geometry, the part automatically assumes its new shape

Dimensioning standards allow creation of drawings and designs that comply with ANSI, ISO, DIN, BS or your own internal drafting conversions

Dimensioning techniques (stacked, chained or ordinate) that can be changed quickly and easily

Parametric design capability is a friendly, yet powerful feature for quickly modifying a design. Because there are no special setup operations or macro languages are required to define constraints and dimensions, it's straight-forward to use. The analysis feature handles under constrained drawings by "reading" the design intent and applying proper constraints.

Still the most productive and user-friendly UI ever. The unique indicate-operate paradigm does away with clunky tools and modes. Huge time-saving features such as cursor-stroke commands (gestures) and hot-keys refined over the years to address commonly used commands speeds the entire design process.

Translators to popular CAD formats. Bi-directional AutoCAD DXF/DWG, and IGES translators come standard with ExpertCAD.

Share your designs by publishing in Adobe PDF format or on the web in HTML format.

Choose from .gif, .jpg, .png, .tif, .bmp formats for exporting a bitmap of your design for viewing or inclusion in other manufacturing documents.

Unlimited customization is possible with the built-in ScriptLink programming language. This easy-to-use macro interpreter allows for total control of the user interface and development of your own time-saving commands.
Direct Connections to ExpertCAM and Prospector
A click of the mouse sends completed designs directly to the shop floor for machining in Prospector; a fully assembled, ready-to-use Prospector project can be generated directly from ExpertCAD.

Design it and machine it with ExpertCAD and ExpertCAM. Bundled together, ExpertCAD and ExpertCAM are the dynamic duo of 2D production NC programming.

Specialized tools within ExpertCAD make it a snap to prepare design data for production NC programming and machining in ExpertCAM.

Direct data interfaces eliminates the need for data translation resulting in perfect exchanges of design data between CAD and CAM.
Licensing Options
Node-Locked Licensing
License enforcement is implemented by a USB security key. Any computer with this key attached to a USB port is authorized to run the software. A network connection or internet connections is not required.
Floating License
The industry-leading FlexLM™ floating license solution from Flexera
®

simplifies deployment and management of software licenses. Any computer on the network can acquire a license from your designated floating license server computer.
Internet Licensing
An internet license or iLicense is a different form of a node-locked license. An iLicense requires an internet connection. When you start ExpertCAD, it will acquire a license assigned to that specific computer over a secure SSL connection with the AMT Software license server.
System Requirements
ExpertCAD runs on Intel and Intel-compatible computers running the Microsoft Windows® operating system. A native 64-bit edition is available to take full advantage of the additional memory possible with 64-bit operating systems. ExpertCAD does not require a high-end computer or any special hardware option(s); any computer with even the most basic configuration will work well.
You will want to get a display capable of a screen resolution of 1080 pixels in height (e.g. 1920 x 1080 is fine). This allows for all the icons on the right hand side to be visible. Lower resolutions will work but you will have to scroll the icons to get to those not visible.
ExpertCAD is also available for Sun (Oracle) SPARC workstations running the Solaris operating system.
Supported Windows Operating Systems
The table below lists the certified and supported operating systems for ExpertCAD.
| | | | |
| --- | --- | --- | --- |
| Operating System | 32-bit | 64-bit | Minimum Revision Level |
| Windows 10 S | | | None |
| Windows 10 | | | All |
| Windows 8.1** | | | 8.1 and 8.1 Update |
| Windows 8** | | | All |
| Windows Server 2012 | N.A. | | R1 and R1 |
| Windows 7 | | | Service Pack 1 |
| Windows Server 2008 R2 | | | All |
| Windows XP* | | | Service Pack 3 |
| Windows Server 2003* | | | Service Pack 2 |
| Windows Vista | | | None |
| Windows 2000 | | | None |
*Windows XP and Windows Server 2003 are no longer supported. While no longer supported, there is nothing to prevent you from attempting to install and run the software on these operating systems. Any problems with the installation or execution of the software on these platforms will not be corrected.
**If you are running Windows 8 and/or Window 8.1, we strongly encourage you to upgrade to Windows 10. The vast majority of the customer base did not opt to upgrade to either of these operating systems. Therefore, we may choose to drop formal support soon.