ExpertCAM Overview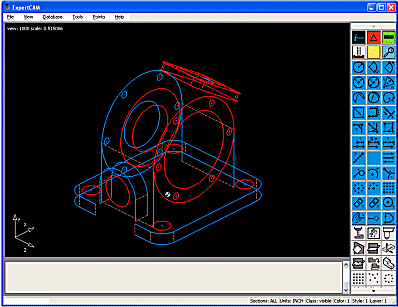 Production NC programming has typically been a slow, expensive, error-prone process. ExpertCAM changes all that. With ExpertCAM, your NC programmers beat the backlog and create accurate, efficient part programs more quickly than ever before, with at large and small manufacturing firms alike successfully increasing NC programmer productivity with ExpertCAM.
ExpertCAM has powerful visualization tools to allow users to review and optimize machining operations before a part program is released. ExpertCAM makes short order of your machining operations — for milling, turning, flame cutting and punching — in one effective application package.
ExpertCAM accepts part geometry from popular CAD applications and links directly to ExpertCAD and ToolDesigner, accelerating engineering changes and design data preparation for machining. Users can automatically reference tools and fixtures from electronic databases or generate their own tooling while working with ExpertCAM. They can also display true 2D and 3D representations of the tool and tool path in relation to part geometry and fixtures. All of which saves time, increases accuracy, and eliminates tool collisions.
ExpertCAM supports 2.5 axis contouring and 5-axis positioning for milling applications, along with 2- and 4-axis lathe programming. A comprehensive library of post-processors are included for both mill and lathe along with the ability to order custom post processors directly from AMT Software. So you have one cost-effective system that supports all your machining requirements. ExpertCAM comes bundled with a license for ExpertCAD to make short work of part data preparation for machining. In short, ExpertCAM is truly a complete, comprehensive CAD/CAM system.
ExpertCAM Features
ExpertCAM has a wide variety of machining capabilities designed to solve your most difficult manufacturing applications or problems. Features include:
2.5 axis for contouring with 5-axis positioning for milling.

2 and 4-axis lathe programming with ID/OD turning, grooving, threading, and turret visualization.

Extensive user-defined tooling database for holder, fixture, and insert definition as well as cutting tool feeds and speeds.

Canned cycles.

Entry and exit controls.

Tool path/geometry associations.

Boundary profiling.

Milling with islands.

Automatic pocketing and roughing.

Drilling, taping, boring.

Multiple tool path visualization options, including color fill.

Machine tool head and holder simulation to eliminate collisions.

NC parametric capability.
Machine Tool Support
AMT Software has long been recognized for the completeness of its customized post-processor output, allowing users to go directly from computer graphic representations to the machine tool — without errors or time-consuming editing. Regardless or the complexity of your machine tools or unique needs, our vast library and ability to create and configure post-processors assures you'll get exactly the right output to take full advantage of our machine & CNC's capabilities.
ExpertCAM Components
ExpertCAM is a complete CAD/CAM solution that includes:
ExpertCAD — full-featured ExpertCAD design, detailing and drafting solution complements ExpertCAM nicely by making short work of preparing machine-ready geometry from detailed design drawings.

AutoCAD Interface - import and export AutoCAD DXF and DWG files.

IGES Interface - import and export IGES format data files.

Library of post processors and available custom post processor development.
Licensing Options
Node-Locked Licensing
License enforcement is implemented by a USB security key. Any computer with this key attached to a USB port is authorized to run the software. A network connection or internet connections is not required.
Floating License
The industry-leading FlexLM™ floating license solution from Flexera® simplifies deployment and management of software licenses. Any computer on the network can acquire a license from your designated floating license server computer.
Internet Licensing
An internet license or iLicense. An iLicense requires an internet connection. When you start ExpertCAM, it will acquire a license assigned to that specific computer over a secure SSL connection with the AMT Software license server.
System Requirements
ExpertCAM runs on Intel and Intel-compatible computers running the Microsoft Windows® operating system. A native 64-bit edition is available to take full advantage of the additional memory possible with 64-bit operating systems. ExpertCAM does not require a high-end computer or any special hardware option(s); any computer with even the most basic configuration will work well. ExpertCAM is also available for Sun (Oracle) SPARC workstations running the Solaris operating system.
You will want to get a display capable of a screen resolution of 1080 pixels in height (e.g. 1920 x 1080 is fine). This allows for all the icons on the right hand side to be visible. Lower resolutions will work but you will have to scroll the icons to get to those not visible.
ExpertCAM is also available for Sun (Oracle) SPARC workstations running the Solaris operating system.
Supported Windows Operating Systems
The table below lists the certified and supported operating systems for ExpertCAM.
| | | | |
| --- | --- | --- | --- |
| Operating System | 32-bit | 64-bit | Minimum Revision Level |
| Windows 10 S | | | None |
| Windows 10 | | | All |
| Windows 8.1** | | | 8.1 and 8.1 Update |
| Windows 8** | | | All |
| Windows Server 2012 | N.A. | | R1 and R1 |
| Windows 7 | | | Service Pack 1 |
| Windows Server 2008 R2 | | | All |
| Windows XP* | | | Service Pack 3 |
| Windows Server 2003* | | | Service Pack 2 |
| Windows Vista | | | None |
| Windows 2000 | | | None |
*Windows XP and Windows Server 2003 are no longer supported. While no longer supported, there is nothing to prevent you from attempting to install and run the software on these operating systems. Any problems with the installation or execution of the software on these platforms will not be corrected.
**If you are running Windows 8 and/or Window 8.1, we strongly encourage you to upgrade to Windows 10. The vast majority of the customer base did not opt to upgrade to either of these operating systems. Therefore, we may choose to drop formal support soon.