Surface Modeling
ToolDesigner is a high-performance mold design solution that simplifies and speeds the entire mold design process. Ever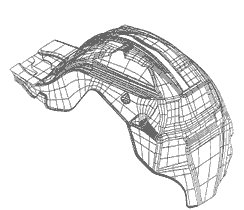 increasing complexity in design from automotive to consumer goods is a reality toolmakers must be prepared to deal with. Designing tools from these complex models requires a design system you can count on regardless of how difficult, complex or ill defined the part data may be.
With ToolDesigner you have the ability to start the job immediately, instead of having to spend hours debugging faulty IGES translations, rebuilding incorrect surfaces or having to massage surfaces to conform the strict requirements of solid models.
Are you frustrated with solid modeling? Tired of the delays involved when the system will not knit the design data into a solid? Do you feel cheated when you can not use system features because the data will not form a solid? Are you fed up with the huge data file sizes and expensive hardware requirements? Are you disappointed with the performance of solid modeling?
Where complexity exists, Surface Modelers reign supreme. When real scale and geometric complexity occur, users invariably revert to Surface Modeling.
Unlike many other systems, ToolDesigner provides unparalleled support for trimmed surfaces enabling you to quickly and accurately produce designs from part data not conforming to standards. ToolDesigner's skill set for free-form design and constructive surface creation simplifies the development of even the most involved part and tooling geometry. With ToolDesigner you can:
Define complex, sculptured geometric shapes
Use NURB technology for flexibility, accuracy and performance
Create free-form shapes using sweeping with multiple control curves, lofting and curve meshing
Automated parting line generation
Choose constant, tapered or variable filleting and automatically trim back surfaces to tangency
Perform uniform or non-uniform scaling
Make surface section cuts and curve/point projections
Simple and complex section lines may be created in any view. Options for parallel, perpendicular and radial sections.
Constant and variable fillets between surfaces and 3D profiles.
Extend trimmed surfaces.
Use powerful editing tools to trim, un-trim and offset surfaces
Perform tangent, edge-matching and blending of surfaces
Auto-trim during surface-surface intersection
Develop complex, multiple UV surfaces
Automatically create run-off surfaces for faster mold development
Constant and variable offset surfaces.
Skin surface tools creates a single surface through multiple profiles, point lines or by sweeping a profile.
Draft surface builder includes options for sharp or blended corners.
When it comes to 3D surface modeling for designers of complex tools, ToolDesigner is in a league of its own.