ToolDesigner Overview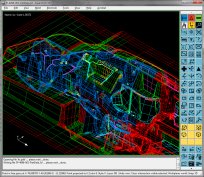 ToolDesigner is a high-performance mold design solution that simplifies and speeds the entire mold design process. With ToolDesigner's dynamic combination of features, mold shops can automate and streamline the entire design process. ToolDesigner provides you with a comprehensive skill set including:
3D surface modeling.
3D wireframe design.
2D drafting and detailing.
Engineering change feature to detect differences in 2D and 3D design data sets.
Other side of material (OSM).
Draft analysis to assist in orienting the part data into mold position.
Core and cavity separator identifies surfaces that belong to either the core side or cavity side of the mold.
Automated electrode design and manufacturing functions.
Waterline design and optimization.
Automated mold design functions creates surfaces to model common mold features such as locks.
Parametric mold components for developing detailed 2D mold drawings.
Automated stock listing for 2D detailed mold drawings.
Direct interface to Prospector for NC programming.
3D printer support allows you to publish your design in STL or AMF format.
Bi-directional IGES translators.
Bi-directional AutoCAD DXF/DWG translators.
Integrated ScriptLink macro interpreter allows for unlimited customization.
ToolDesigner Components
ToolDesigner is a complete suite of software that includes:
ExpertCAD 3D - 3D surface and wireframe design software.

ExpertCAD - 2D design, detailing and drafting software to produce detailed mold design drawings.

Bi-directional translators support reading and writing AutoCAD DXF/DWG, IGES and VDA file formats.
ToolDesigner View - A Full-Featured View-Only Solution
ToolDesigner View includes all the features and functions of a full license of ToolDesigner with the ability to save design data disabled. ToolDesigner View includes ExpertCAD View as well. This view-only solution is perfect for purchasing, shop floor use in assembly, design reviews or any other function where viewing and interrogating a design is all that is needed.
Licensing Options
Node-Locked Licensing
License enforcement is implemented by a USB security key. Any computer with this key attached to a USB port is authorized to run the software. A network connection or internet connections is not required.
Floating License
The industry-leading FlexLM™ floating license solution from Flexera® simplifies deployment and management of software licenses. Any computer on the network can acquire a license from your designated floating license server computer.
Internet Licensing
An internet license or iLicense is a different form of a node-locked license. An iLicense requires an internet connection. When you start ExpertCAD, it will acquire a license assigned to that specific computer over a secure SSL connection with the AMT Software license server.
Perpetual and Subscription Licensing

Perpetual License
A perpetual license lets you use the software for as long as you want. Your one-time license fee grants to you a non-exclusive, non-transferable license that you may use in perpetuity.
License enforcement is typically implemented by a USB security key. Any computer with this key attached to a USB port is authorized to run the software. A network connection or internet connections is not required. If you wish, you can choose an internet-based form of licensing - iLicense - as your license enforcement method. An iLicense requires an internet connection.
Software updates and new releases along with customer support services are provided as part of a software maintenance contract purchased separately.
Subscription License
A subscription license is a cost-effective way to put Prospector to work with a low monthly, quarterly or yearly license fee. During the subscription period, all updates - major releases, minor releases and updates - are included along with phone and internet support. Subscription allows you to quickly scale up and down to manage the volume of work in your shop more effectively. You pay for access to software only when you actually need it, giving you the flexibility to control costs without an up-front license investment or long-term commitment.
You may choose between 2 methods of license enforcement for a subscription license:
For a nominal fee you can choose to license your software with a USB security key. The security key has a built-in timer to keep track of the expiry date of the subscription. The USB key can be updated to extend the subscription or restart a subscription using the License Manager application that comes with your software.

An internet license or iLicense. An iLicense requires an internet connection. When you start a ToolDesigner program, it will acquire a license over an SSL connection with our license server. There is no extra fee for an iLicense.
System Requirements
ToolDesigner runs on Intel and Intel-compatible computers running the Microsoft Windows® operating system. A native 64-bit edition is available to take full advantage of the additional memory possible with 64-bit operating systems. A minimum of 4GB of memory is required. Depending on the complexity of your 3D designs, additional memory is recommended. Graphics cards from NVIDIA® are recommended if you choose to upgrade from a basic or integrated graphics capability.
You will want to get a display capable of a screen resolution of 1080 pixels in height (e.g. 1920 x 1080 is fine). This allows for all the icons on the right hand side to be visible. Lower resolutions will work but you will have to scroll the icons to get to those not visible.
Supported Windows Operating Systems
The table below lists the certified and supported operating systems for ToolDesigner.
| | | | |
| --- | --- | --- | --- |
| Operating System | 32-bit | 64-bit | Minimum Revision Level |
| Windows 10 S | | | None |
| Windows 10 | | | All |
| Windows 8.1** | | | 8.1 and 8.1 Update |
| Windows 8** | | | All |
| Windows Server 2012 | N.A. | | R1 and R1 |
| Windows 7 | | | Service Pack 1 |
| Windows Server 2008 R2 | | | All |
| Windows XP* | | | Service Pack 3 |
| Windows Server 2003* | | | Service Pack 2 |
| Windows Vista | | | None |
| Windows 2000 | | | None |
*Windows XP and Windows Server 2003 are no longer supported. While no longer supported, there is nothing to prevent you from attempting to install and run the software on these operating systems. Any problems with the installation or execution of the software on these platforms will not be corrected.
**If you are running Windows 8 and/or Window 8.1, we strongly encourage you to upgrade to Windows 10. The vast majority of the customer base did not opt to upgrade to either of these operating systems. Therefore, we may choose to drop formal support soon.